Steward Health Care Chairman and CEO, Dr. Ralph De La Torre in official meeting with Prime Minister of Malta, Dr. Joseph Muscat.
April 24, 2018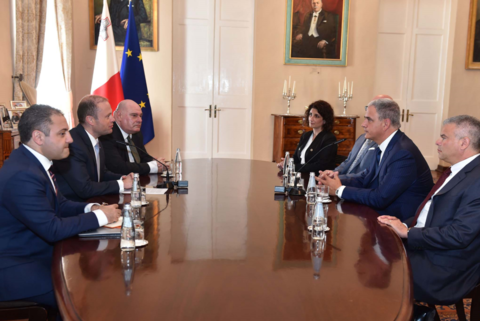 Steward Health Care officials, led by CEO Dr. Ralph De La Torre, today met with the Prime Minister of Malta and Malta Enterprise representatives to officially launch Steward's public-private partnership with Malta.  
 
Steward officially assumed responsibility over Karin Grech Hospital, St. Luke's Hospital, and the Gozo General Hospital in February, and has since begun laying the foundations to deliver the highest quality care to patients across Malta and Gozo for free.  
 
Addressing journalists at the Office of the Prime Minister this afternoon, Dr. De La Torre explained that, "Steward Health Care has built an innovative care model that has successfully helped patients across the United States of America to receive high-quality care while reducing medical expenses. As the largest private hospital operator in the USA with 36 community hospitals, we saw the opportunity of partnering with the Maltese government as an excellent chance for us to extend our delivery model internationally and enhance the quality of health care in Malta."  
 
Malta, he said, has a long-standing reputation as a healthcare provider, formerly referred to as the Nurse of the Mediterranean, is a Member of the European Union, and is stable both economically and politically, which made it the perfect location for Steward to launch its European ambitions.  
 
Prime Minister Joseph Muscat noted that the partnership "is not a simple Public Private Agreement, this is about taking Malta's health sector to the next level and building on the fundamental strengths of our current health system."
 
Also present at the meeting was Dr. Armin Ernst, President of Steward Health Care International. Dr. Ernst stated that "the team in Malta is focused on improving the standards across the hospitals and delivering high quality care to patients. In parallel, we are working to finalise Steward's master plan for Malta, which would give management a clear plan of works going forward, and to complete the Barts campus." He added that once the infrastructure has been modernised, Steward will also be looking at opportunities in the medical tourism space.  
 
Earlier in the day, the Steward delegation visited St Luke's and Karin Grech Hospital, where Dr. De La Torre, met with members of staff and presented a fleet of new patient transport vehicles to the transport department. While there, the delegation also visited the Orthotics and Prosthetics Unit, where a new service for amputees has just been launched, and oversaw embellishment works currently taking place at Karin Grech Hospital's main entrance.  
About Steward Health Care Malta  
 
Steward Health Care, the largest private hospital operator in the United States, is a physician-led health care services organization committed to providing the highest quality of care in the communities where patients live. Headquartered in Boston, Massachusetts, Steward operates 39 community hospitals in the United States and the country of Malta, that regularly receive top awards for quality and safety. The company employs approximately 40,000 health care professionals. The Steward network includes more than 25 urgent care centers, 42 preferred skilled nursing facilities, substantial behavioral health services, over 7,300 beds under management, and approximately 1.5 million full risk covered lives through the company's managed care and health insurance services. The total number of paneled lives within Steward's integrated care network is projected to reach 3 million in 2018. 
 
Steward's unique health care service delivery model leverages technology, innovation, and care coordination to keep patients healthier. With a culture that prioritizes agility, resourcefulness, and continuous improvement, Steward is recognized as one of the world's leading accountable care organizations. The Steward Health Care Network includes thousands of physicians who help to provide more than 12 million patient encounters per year. Steward Medical Group, the company's employed physician group, provides more than 4 million patient encounters per year. The Steward Hospital Group operates hospitals in Malta and states across the U.S. including Arizona, Arkansas, Florida, Louisiana, Massachusetts, Ohio, Pennsylvania, Texas, and Utah. 
 
Steward Health Care Malta runs three hospitals across the Maltese Islands: Karin Grech Hospital, St. Luke's Hospital, and Gozo General Hospital.