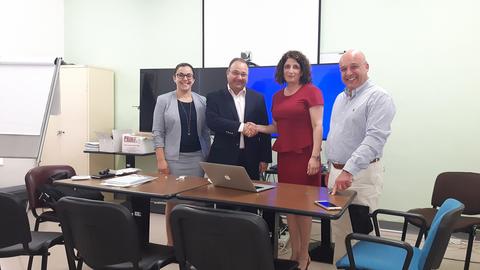 Steward Health Care Malta is part-sponsoring twenty staff members who have enrolled in the newly-launched MSc in Healthcare Management & Leadership being organised by the IDEA Leadership & Management Institute in collaboration with the Learning Institute for Healthcare Professionals. 
The course, which is the first of its kind in Gozo, was inaugurated by Hon. Justyne Caruana last Thursday at an event organised at Gozo General Hospital. 
The Master of Science in Healthcare Management & Leadership course is a 2-year programme that prepares students for the higher leadership and management roles in the health care industry. It integrates a thorough grounding in advanced business management and health care theory and practice with an understanding of the structure and operation of the health care systems.  
Joseph Fenech, CEO of Gozo General Hospital, commented that "Steward Malta is proud to be supporting its staff members to continue their tertiary education. The MSc in Healthcare Management & Leadership will be a great learning experience for our student professionals. Such opportunities not only help individuals progress in their careers but they also add value to the hospital".  
Furthermore, Dr Nadine Delicata, COO and Interim President of Steward Health Care Malta, added that "Steward Malta intends to continue to provide further training opportunities to its staff members. Having a well-trained and experienced staff is crucial if we want to realise Steward's vision of raising health care standards in Malta and Gozo".  
The first intake of the course commenced on the 5th of June with 25 participants having enrolled, 20 of who are employees at the Gozo General Hospital. 
---
Steward Health Care, the largest private hospital operator in the United States, is a physician-led health care services organization committed to providing the highest quality of care in the communities where patients live. Headquartered in Boston, Massachusetts, Steward operates 39 community hospitals in the United States and the country of Malta, that regularly receive top awards for quality and safety. The company employs approximately 40,000 health care professionals. The Steward network includes more than 25 urgent care centers, 42 preferred skilled nursing facilities, substantial behavioural health services, over 7,300 beds under management, and approximately 1.5 million full risk covered lives through the company's managed care and health insurance services.  
Steward's unique health care service delivery model leverages technology, innovation, and care coordination to keep patients healthier. With a culture that prioritizes agility, resourcefulness, and continuous improvement, Steward is recognized as one of the world's leading accountable care organizations. The Steward Health Care Network includes thousands of physicians who help to provide more than 12 million patient encounters per year. Steward Medical Group, the company's employed physician group, provides more than 4 million patient encounters per year. The Steward Hospital Group operates hospitals in Malta and states across the U.S. including Arizona, Arkansas, Florida, Louisiana, Massachusetts, Ohio, Pennsylvania, Texas, and Utah.    
Steward Health Care Malta runs three hospitals across the Maltese Islands: Karin Grech Hospital, St. Luke's Hospital, and Gozo General Hospital.