Steward Malta and Deputy Prime Minister, Chris Fearne Officially Inaugurate Orthotics and Prosthetics Unit at Karin Grech Hospital
June 15, 2018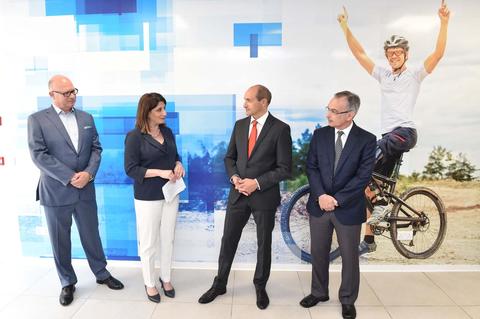 Steward Health Care Malta today officially inaugurated the Orthotics and Prosthetics Unit at Karin Grech Hospital which is in partnership with renowned Prosthetics provider MCOPi. The centre which has now been seeing patients for the last months, provides a daily service to patients requiring an array of different prosthetic and orthotics devices.   
"Since starting work with MCOPi, the unit has had over 1,600 visits from Prosthetics Patients, and no less than 6400 from those requiring care in Orthotics, amounting to a total of more than 8,000 visits," explained Karin Grech CEO, Dr Stephen Zammit. "Whereas before, certain clinics were held at intervals, we are now happy to have a well-functioning unit which sees people Monday to Saturday, with what I believe is a much better service. There is now virtually no waiting time for new amputee patients to be seen, and the devices we are providing are of a much better quality," added Dr Zammit.  
The unit has also seen several patients who have been in the system for quite some time and has come a long way in assessing their needs. Patients who have been found to have an illsuited or sub-level device are in the process of being given a new one, and the dedicated team of staff is working closely with patients to develop care plans to take home.  
Nadine Delicata, COO and Interim President of Steward Health Care Malta also present at the inauguration spoke of the infrastructural works carried out. "The old location where patients were being seen was certainly not up to standard and not suitable for our patients, relatives or staff. We are happy to be inaugurating this space, which gives everyone making use of it the positive experience any modern-day facility should offer," explained Dr Delicata. "Steward Malta is currently working on a Master plan which looks at the entire hospital campus, ensuring that what we do redevelop is fully able to meet Malta's population needs for years to come, and that every Euro spent goes towards improving the service for our patients and the wider community. We thank all the members of our hard-working team during this transformative time, and are looking forward to things to come," added Dr Delicata.  
Deputy Prime Minister and Minister for Health Chris Fearne said that the new premises are a far cry from the crowded, old premises where services were given up to a few months ago. He stated that besides the new premises, the quality of service has improved considerably.   
"Previously OPU services were scattered as a consultant used to visit Malta every number of weeks, this led to a waiting list and discomfort for patients. Today new cases are seen right away without any waiting lists," said Mr Fearne.  
In relation to this service, Steward Malta has set up an OPU Advisory Board, composed of a multidisciplinary team of individuals including vascular surgeons, patients, rehab professionals, and administrators who will come together to discuss best practices and ways to improve the service, not only once a patient arrives at Karin Grech Hospital, but also when still receiving care at Mater Dei, and long after his device is given to him. "We are very pleased to see professionals from Mater Dei and Steward working together to provide such seamless care. This is what it truly means to work in partnership" added Dr Delicata.  
---
 
Steward Health Care, the largest private hospital operator in the United States, is a physician-led health care services organization committed to providing the highest quality of care in the communities where patients live. Headquartered in Boston, Massachusetts, Steward operates 39 community hospitals in the United States and the country of Malta, that regularly receive top awards for quality and safety. The company employs approximately 40,000 health care professionals. The Steward network includes more than 25 urgent care centers, 42 preferred skilled nursing facilities, substantial behavioural health services, over 7,300 beds under management, and approximately 1.5 million full risk covered lives through the company's managed care and health insurance services.  
Steward's unique health care service delivery model leverages technology, innovation, and care coordination to keep patients healthier. With a culture that prioritizes agility, resourcefulness, and continuous improvement, Steward is recognized as one of the world's leading accountable care organizations. The Steward Health Care Network includes thousands of physicians who help to provide more than 12 million patient encounters per year. Steward Medical Group, the company's employed physician group, provides more than 4 million patient encounters per year. The Steward Hospital Group operates hospitals in Malta and states across the U.S. including Arizona, Arkansas, Florida, Louisiana, Massachusetts, Ohio, Pennsylvania, Texas, and Utah.    
Steward Health Care Malta runs three hospitals across the Maltese Islands: Karin Grech Hospital, St Luke's Hospital, and Gozo General Hospital.
*Photo credit - Jeremy Wonnacott