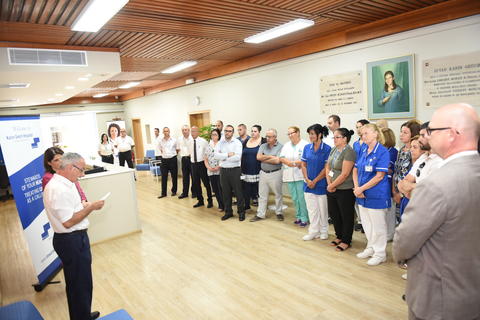 Steward Health Care Malta has today officially inaugurated the newly-refurbished reception area at Karin Grech Hospital. The inauguration was celebrated on-site and included the participation of the President of Steward Health Care International, Dr Armin Ernst, COO of Steward Malta, Dr Nadine Delicata, and CEO of Karin Grech Hospital, Dr Stephen Zammit.  
The reception area has been completely renovated through a Euro 90,000 investment to deliver a more welcoming experience to patients and their family members. The area has been completely stripped and re-done, together with installation of air-conditioning, new flooring, décor, and automatic doors. All soft furnishings used in this project are anti-microbial and follow the highest health care standards. 
Speaking at the event, Dr Zammit commented that "the reception area is the first interior place where guests get acquainted with the style, ambience and service standards of the hospital. Just like people, spaces in buildings embody distinct personalities and convey a message about who we are and the standards we uphold. The refurbished space gives our employees a small taste of what the rest of our hospital will look like, as we continue on the project of modernization."
Adding to this, Dr Nadine Delicata explained that she was delighted to see this project come together, "It is important to recognize the significant amount of work going on behind the scenes but tangible and visible infrastructural changes do well to uplift the spirits of all those who visit this space. Steward's work in Malta and Gozo has now picked up good pace and we will continue to see improvements. This week we also welcomed an additional 7 new patient transport vehicles in Karin Grech Hospital, with more to follow in the coming days. In Gozo the Barts Medical school is progressing at a very fast pace, and in September we will also have the pleasure of opening the new anatomy centre, Steward Malta's vision for both Hospitals is to transform these institutions into JCI-accredited hospitals with top quality facilities that we can all be proud of."
Dr Delicata also explained that work on a masterplan for the Karin Grech and St Luke's Hospital campus is currently underway. This she said, will map out all the service lines and ensure that the planned hospital infrastructure truly meets requirements to be able to provide high level quality care for the Maltese community for years to come. 
---
Steward Health Care, the largest private hospital operator in the United States, is a physician-led health care services organization committed to providing the highest quality of care in the communities where patients live. Headquartered in Boston, Massachusetts, Steward operates 39 community hospitals in the United States and the country of Malta, that regularly receive top awards for quality and safety. The company employs approximately 40,000 health care professionals. The Steward network includes more than 25 urgent care centers, 42 preferred skilled nursing facilities, substantial behavioural health services, over 7,300 beds under management, and approximately 1.5 million full risk covered lives through the company's managed care and health insurance services. 
 
Steward's unique health care service delivery model leverages technology, innovation, and care coordination to keep patients healthier. With a culture that prioritizes agility, resourcefulness, and continuous improvement, Steward is recognized as one of the world's leading accountable care organizations. The Steward Health Care Network includes thousands of physicians who help to provide more than 12 million patient encounters per year. Steward Medical Group, the company's employed physician group, provides more than 4 million patient encounters per year. The Steward Hospital Group operates hospitals in Malta and states across the U.S. including Arizona, Arkansas, Florida, Louisiana, Massachusetts, Ohio, Pennsylvania, Texas, and Utah.     
 
Steward Health Care Malta runs three hospitals across the Maltese Islands: Karin Grech Hospital, St Luke's Hospital, and Gozo General Hospital.