Steward Malta improves patient accessibility to services with investment in new hospital transport fleets
September 18, 2018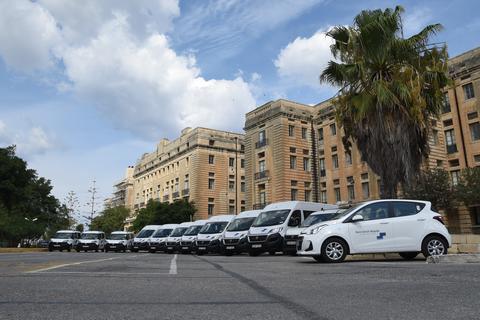 Steward Health Care Malta has invested in 18 new patient transport vehicles that will be used at St Luke's Hospital, Karin Grech Hospital and Gozo General Hospital. 
The new hospital fleets will be replacing much older vehicles, some of which dated back to the early 90s, contributing to a much-improved experience to the hospital's staff and patients. 
Dr Stephen Zammit, CEO of Karin Grech Hospital, explained that, "the safety of our geriatric and rehabilitation patients as well as of our staff is one of our main focuses at Steward, thus being able to provide tools which improve the standards of care is essential." 
The newly purchased vehicles include 14 large vans, 3 smaller easy access vehicles, and a rapid response vehicle, all of which contribute to a much safer, and comfortable experience, with a much smaller impact on the environment. 
The transport departments at Steward hospitals transport over 100 patients a day, mostly elderly patients who require an additional level of comfort and support. These patients often lack the mobility to attend appointments on their own, and risk being marginalized unless given additional help in moving around. Patients are brought from their homes to the hospital for outpatient appointments and they are taken to Mater Dei and to other appointments outside the hospital. This is done to ensure that patients are cared for in every way. 
Joseph Fenech, CEO of Gozo General Hospital, explained how patients needing transport from Gozo to Malta and vice-versa will now be transported in safer and more comfortable vehicles. Furthermore, the introduction of the rapid response vehicle in Gozo was also a very welcome addition to the fleet. This vehicle is used by members of the emergency medicine team to provide first aid to anyone injured around the island and helps the hospital use its resources more efficiently by assessing an incident's severity and treating smaller incidents at the scene. 
"The vehicle has helped the Gozo Hospital improve response times in heavily-trafficked areas and in less-accessible country roads. The rapid response vehicle is more able to manoeuvre through than full sized ambulances," he explained. 
This investment is yet another example of Steward's commitment to improving the hospital infrastructures in Malta and Gozo through increased accessibility, quality of care, and safety. 
---
Steward Health Care, the largest private hospital operator in the United States, is a physician-led health care services organization committed to providing the highest quality of care in the communities where patients live. Headquartered in Boston, Massachusetts, Steward operates 39 community hospitals in the United States and the country of Malta, that regularly receive top awards for quality and safety. The company employs approximately 40,000 health care professionals. The Steward network includes more than 25 urgent care centers, 42 preferred skilled nursing facilities, substantial behavioural health services, over 7,300 beds under management, and approximately 1.5 million full risk covered lives through the company's managed care and health insurance services. 
Steward's unique health care service delivery model leverages technology, innovation, and care coordination to keep patients healthier. With a culture that prioritizes agility, resourcefulness, and continuous improvement, Steward is recognized as one of the world's leading accountable care organizations. The Steward Health Care Network includes thousands of physicians who help to provide more than 12 million patient encounters per year. Steward Medical Group, the company's employed physician group, provides more than 4 million patient encounters per year. The Steward Hospital Group operates hospitals in Malta and states across the U.S. including Arizona, Arkansas, Florida, Louisiana, Massachusetts, Ohio, Pennsylvania, Texas, and Utah.    
Steward Health Care Malta runs three hospitals across the Maltese Islands: Karin Grech Hospital, St Luke's Hospital, and Gozo General Hospital.