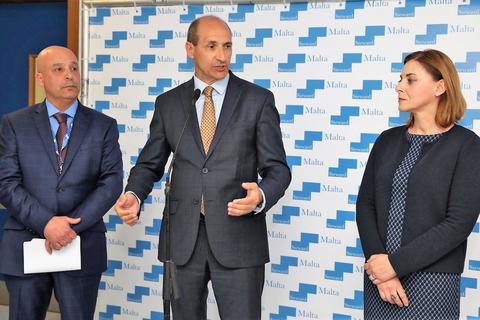 Maltese Deputy Prime Minister and Minister for Health, Chris Fearne, Minister for Gozo Justyne Caruana and Gozo General Hospital Executive Director Joseph Fenech, today officially inaugurated the new Orthopaedics Ward at Gozo General Hospital, marking yet another project completed by Steward Health Care Malta. 
The new Orthopaedics Ward will be dedicated to hosting patients following total hip replacements and total knee replacements among other procedures. The new ward, which involved an investment of €185,000, is made up of 10 new beds, thus increasing the hospital's capacity and importantly freeing up space in the acute ward. 
In addition to the capital investment, the hospital has also recruited an additional 10 nurses and carers among other support staff and provided training in collaboration with Mater Dei Hospital, ensuring the same protocols and standards are being followed. 
Speaking at the inauguration, Mr Joseph Fenech stated that "through the new Orthopaedics Ward patients will now be segregated appropriately as is best practice. Since patients will be part of a small cohort, it will be easier for them to be given increased individual attention and for hospital staff to deliver more specialized and dedicated care. We are excited about the developments at Gozo General Gozo Hospital, and are continuing to work to be able to truly develop a centre of excellence here for the local community." 
Deputy Prime Minister Chris Fearne that "the governments' mission was to offer the highest level of care possible and that the opening of the new Orthopaedic Ward was simply one piece of a much bigger picture. He explained how Steward had already invested millions in hospital improvements and was continuing to work as a partner to deliver care across Malta and Gozo".
Minister Justyne Caruana described how the Ministry for Gozo was working closely with its counterparts in health to ensure that a holistic approach is taken to health delivery in Gozo. Only in such a way would Gozitan patients be able to receive high quality care close to home.
Alongside the inauguration of the Orthopaedics Ward, Steward Malta has also invested in a new Chiller Unit for the hospital's operating theatres, it has just renovated the doctor's quarters, it is progressing well on finishing the Barts Medical School on time, and it will be announcing even more developments in the days and weeks to come. 
 
---
About Steward Health Care 
Steward Health Care is the nation's largest private, for profit physician led health care network in the United States. Headquartered in Dallas, Texas, Steward operates 36 hospitals in the United States and the country of Malta that regularly receive top awards for quality and safety. The company employs approximately 40,000 health care professionals. The Steward network includes multiple urgent care centers and skilled nursing facilities, substantial behavioral health services, over 7,900 beds under management, and approximately 2.2 million full risk covered lives through the company's managed care and health insurance services. The total number of panelled lives within Steward's integrated care network is projected to reach three million in 2018.
The Steward Health Care Network includes five thousand physicians across 800 communities who help to provide more than 12 million patient encounters per year. Steward Medical Group, the company's employed physician group, provides more than six million patient encounters per year. The Steward Hospital Group operates hospitals in Malta and nine states across the U.S., including Arizona, Arkansas, Florida, Louisiana, Massachusetts, Ohio, Pennsylvania, Texas, and Utah.