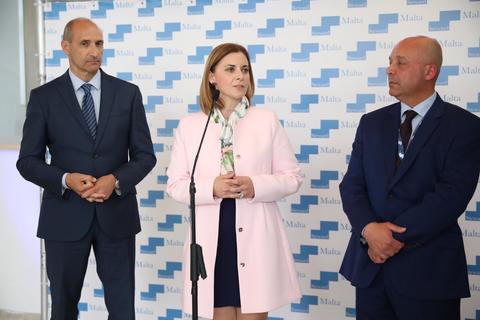 Maltese Deputy Prime Minister and Minister for Health Chris Fearne, Minister for Gozo Justyne Caruana, and Gozo General Hospital Executive Director Joseph Fenech, today officially inaugurated the new Clinical Laboratory at Gozo General Hospital. The new laboratory represents an investment of €1.2 million in new infrastructure and equipment that will aid in optimizing workflows and outcomes, and that will help in making the laboratory's operations more scalable.
This significant investment introduces advanced technology and first-level automation.  Among the systems in the new laboratory, one finds a cutting-edge, automated immunoassay analyser, an integrated chemistry system, a robotic interface solution that performs intelligent sample processing, a fully automated, high-volume diagnostic haematology analyser, a digital morphology system and finally, a compact haemostasis analyser, the first of its kind on the Maltese islands.
Executive Director of Gozo General Hospital, Mr Joseph Fenech commented that "the new clinical laboratory has further strengthened our hospital operations, significantly reducing the need to send samples for testing outside of the hospital. The insourcing of such processes is a model that Steward Malta is focusing on within its hospitals to ensure higher operational efficiency and the ability to run quasi self-sufficient facilities. The high-tech equipment has been very positively received by our medical laboratory scientists and lab staff, as laborious and repetitive tasks have been reduced allowing them to focus on the higher-skills based components of their work. I would like to take this opportunity to thank our hard-working staff for their dedication during the challenging transition from one lab to the other. This project represents the Steward way of doing business - putting quality at the heart of everything that we do."  
He continued by emphasizing that "beyond the important infrastructural upgrades such as the new clinical laboratory and the recently opened Anatomy Centre, a significant amount of work is going on behind the scenes in other areas of the business such as recruitment, quality assurance and supply chain management. Steward Malta's vision is to transform its institutions into JCI-accredited hospitals, and this is why we are striving to improve across the board."
Deputy Prime Minister Chris Fearne hailed the €1.2 million investment in the new lab and explained how this reduced the need for tests to be sent for analysis in Malta, saving time and allowing the Gozo hospital to deliver better care. "This augers well for health care in Gozo. The lab on its own however, will not give the necessary results, which is why we need to continue strengthening our personnel so that together we can deliver on our vision for quality care close to home for the Gozitan community".
Minister for Gozo Justyne Caruana explained how the new lab meant that Gozo General Hospital can introduce new services and standards. "The improvements in quality aren't only for our patients, but thanks to such projects and initiatives we are also creating quality jobs in Gozo for members of our community."
Alongside the above-mentioned work, Steward Malta is in the process of finalizing the details of a masterplan which will communicate the timelines and details for the complete renovation of St Luke's Hospital, Karin Grech Hospital and Gozo General Hospital. The masterplan will map out all the service lines and ensure that the planned hospital infrastructures truly meet the high-level quality requirements necessary to care for the Maltese and Gozitan communities for many years to come.
About Steward Health Care 
Steward Health Care is the nation's largest private, for profit physician led health care network in the United States. Headquartered in Dallas, Texas, Steward operates 36 hospitals in the United States and the country of Malta that regularly receive top awards for quality and safety. The company employs approximately 40,000 health care professionals. The Steward network includes multiple urgent care centers and skilled nursing facilities, substantial behavioral health services, over 7,900 beds under management, and approximately 2.2 million full risk covered lives through the company's managed care and health insurance services. The total number of panelled lives within Steward's integrated care network is projected to reach three million in 2018.
The Steward Health Care Network includes five thousand physicians across 800 communities who help to provide more than 12 million patient encounters per year. Steward Medical Group, the company's employed physician group, provides more than six million patient encounters per year. The Steward Hospital Group operates hospitals in Malta and nine states across the U.S., including Arizona, Arkansas, Florida, Louisiana, Massachusetts, Ohio, Pennsylvania, Texas, and Utah.