Prime Minister Joseph Muscat hails the "astonishing advancement" at the Barts Medical School site
May 15, 2019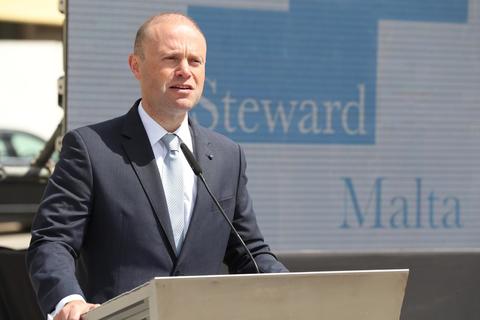 Prime Minister Joseph Muscat today visited the Barts Medical School on the Gozo General Hospital campus to see the progress being achieved on-site. In a press conference that followed the visit, the Prime Minister hailed the "astonishing advancement" achieved in what he described as a "state-of-the-art building".
The Barts Medical School building consists of 8100 sq. meters over 4 floors. This includes a 150-seat auditorium, 2 computer labs (each for 70 students), a lecture hall for 125 students, a 250 sq. meter library and several simulation rooms, classrooms, offices, boardrooms and more. The top floor of the building includes a 1000 sq. meter catering area offering great views of Gozo. 
Opening the press conference, COO of Steward Health Care International Jan Gloer described Barts Medical School, which shall receive its first students this coming September, as the "perfect place to study medicine". He emphasized that the €26 million investment in the building shows Steward's commitment to the government, to Barts, and to the patients and staff in the hospitals, and that furthermore, this investment is proof that Steward is here to stay. 
Professor Anthony Warrens, Dean of Education at Barts explained how the government has always been very committed to this project and that it has showed an ambition to make this country a regional centre of excellence. He explained that the school will soon be ready whilst adding that Barts is planning to expand into new academic fields at Masters level in Malta.
The Prime Minister Joseph Muscat closed the press conference by thanking Steward Health Care Malta, Malta Enterprise, Barts, and all those involved in this project for their sterling work, and expressed his pride at hosting this institution in Gozo. 
As the work at the medical school is finalized, Steward Malta is now shifting its focus to building and refurbishing the hospitals under its management.
About Steward Health Care 
Steward Health Care is the nation's largest private, for profit physician led health care network in the United States. Headquartered in Dallas, Texas, Steward operates 36 hospitals in the United States and the country of Malta that regularly receive top awards for quality and safety. The company employs approximately 40,000 health care professionals. The Steward network includes multiple urgent care centers and skilled nursing facilities, substantial behavioral health services, over 7,900 beds under management, and approximately 2.2 million full risk covered lives through the company's managed care and health insurance services. The total number of panelled lives within Steward's integrated care network is projected to reach three million in 2018.
The Steward Health Care Network includes five thousand physicians across 800 communities who help to provide more than 12 million patient encounters per year. Steward Medical Group, the company's employed physician group, provides more than six million patient encounters per year. The Steward Hospital Group operates hospitals in Malta and nine states across the U.S., including Arizona, Arkansas, Florida, Louisiana, Massachusetts, Ohio, Pennsylvania, Texas, and Utah.