Steward Malta is integrating Barts Medical School Campus into their COVID-19 preparedness at Gozo Hospital
April 15, 2020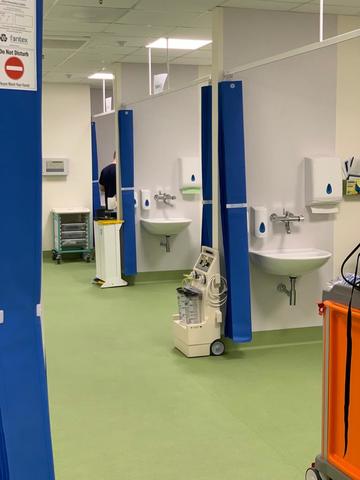 Following temporary closure of educational institutions across Europe, the Barts and the London Medical School located in the grounds of Gozo General Hospital is being put to good use in supporting the Gozo community in the fight against COVID-19.
Steward Malta and Queen Mary University London have agreed for the School of Medicine and Dentistry Campus to support the Gozo Hospital by providing additional spaces to enable safer care as the hospital repurposed its own wards to be able to cater for COVID-19 patients. The Clinical Skills area in the Medical School now houses chemotherapy services and related infusions, ensuring that the most vulnerable patients can continue to receive care in a safe and sustainable manner despite the evolving Coronavirus situation. This has been extremely well received by the hospital's service users and the wider Gozitan community.
The Hospital has also moved outpatient consultations into the Medical School, including anticoagulation and phlebotomy clinics, to enable COVID-19 preparedness works on the hospital outpatients and surrounding areas. Additional work areas have also been provided on the medical school campus for hospital management and administration staff to free up space in Gozo General, which is making 120 beds available for patients with Coronavirus. 
The first phase of this expansion is now complete with 41 beds up and running to cater for Coronavirus patients, out of which 3 are currently occupied by patients testing positive for COVID-19, all in a good state of health. 
Furthermore, the Medical School auditorium is used on a regular basis by the hospital's tactical team for daily COVID-19 briefings. Two of the largest lecture theatres on campus were emptied of furniture and are being used to support the temperature-controlled storage of over two million euros' worth of additional medical equipment being procured by Steward Malta for COVID-19 purposes.
Dr Delicata, Executive Director of Steward Malta, explained that "this approach reflects Steward's dedicated care centre model for COVID-19, whereby isolating COVID-19 patients for treatment serves two important purposes. First, by locating COVID-19 patients in a focused environment, Steward can better dedicate the necessary resources, equipment and expertise to provide COVID-19 patients with focused care and the very best opportunity for a full recovery. Second, it allows Steward to continue caring for other patients who are sick, who are mid-course in treatments, who need to continue to receive the necessary treatment and who need high-quality care".