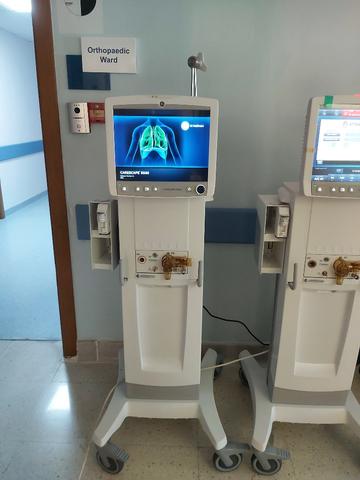 Steward Health Care Malta continues to strengthen its ITU bed facilities by the addition of 10 full- capability GE ventilators as part of their COVID-19 preparedness at Gozo General Hospital (GGH). 
Despite extreme shortages for ventilators internationally, Steward was able to procure 10 additional ventilators from GE in a short time, which are now ready to use at GGH. This was made possible through the assistance of the Steward US supply chain.
Since ventilators from GE were already in use at GGH, all ITU nurses are trained to use these machines. Nurses, who do not usually work at ITU, have received basic training over the last weeks in order to support ITU nurses, when and if required.
Furthermore 2 dialysis machines for the treatment of ITU patients were delivered in the last weeks and the staff is already trained.
The first phase of the ITU expansion from 6 to 16 beds /ventilators is now complete.
In addition, Steward Malta has put on order a further 10 GE ventilators which are expected to arrive in summer. These will be complimented by another 5 Philips' V60+ ventilators which are due to be delivered in the coming weeks. This would result in a net capacity of 25 ITU beds dedicated to COVID-19 patients which would be one of the highest per capita ratios worldwide in addition to 6 in use for non- COVID patients. For comparison, GGH is usually equipped to provide ventilatory support to 4 patients in the ITU.
In order to further support the clinical staff, Steward has also set up an ITU teleconsulting system. 
Dr Delicata, Executive Director of Steward Malta explained, that "scaled eICU and telehealth access to U.S. critical care specialists, will allow our doctors to have immediate back up and support from specialists and nurses highly experienced in the acute care of COVID patients. Clearly these are consultation services and decisions are still carried out by our doctors, who remain overall responsible for patient care".
"As the fight against the pandemic continues, Steward is collaborating closely with the GOM in this time of crisis. The affiliation to Steward's international network has provided unique access to resources, medical expertise, crisis management support and best practices" said Dr Armin Ernst, president of Steward Health Care International. 
No Coronavirus positive patients have been recorded over the last 7 days at GGH. All patients being admitted to Gozo General are being tested for COVID-19 and cohorted in the Infectious Disease Unit until issuing and confirmation of results. Furthermore, no staff members have tested positive for COVID-19 and all employees who were in quarantine have reported back to duty.