Steward Health Care Malta invests in medical gases infrastructure in Gozo General Hospital
October 9, 2020
Local hospitals benefitting from Steward's international supply chain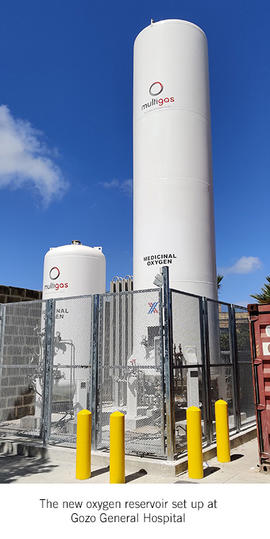 09 October 2020 – Steward Health Care Malta has continued its investment programme in its hospitals in Gozo and Malta and has recently upgraded its medical gases infrastructure in Gozo General Hospital (GGH). This includes replacement of the main vacuum plant as well as a new distribution system and plant to provide the hospital with an autonomous and continued supply of oxygen for a period of four to six weeks through a 20,000-litre oxygen reservoir. This was carried out to meet the hospital's need to provide a more sustainable supply of oxygen to Gozo General patients in anticipation of increased demand due to COVID-19 and the seasonal influenza.
Oxygen is the most widely used medical gas and is considered to be a medicinal, therefore the provision of a safe and reliable supply is critical. With the old set-up, the hospital was reliant on the constant replenishment from Malta of traditional oxygen through a large number of cylinders - with the former system allowing for an autonomy of only three to four days of medical oxygen and with the need to restock oxygen cylinders on a regular basis. The new investment has significantly strengthened the logistical supply chain for the provision of oxygen in the hospital.
The new set-up involves a Vacuum Insulated Evaporator (VIE) system, which can store liquid oxygen in a cryogenic state. Apart from the VIE installation, the hospital infrastructure has been upgraded with an increase in the number of oxygen points around the hospital to be able to handle the anticipated increase in oxygen demand during the winter season.
Patients treated with respiratory complications, sometimes require the use of suction apparatus supplied by a central vacuum plant. The old vacuum plant had been in use at the Gozo Hospital since 1989, and again in anticipation of increased demand, Steward has invested in a new HTM-compliant vacuum plant. The final piece for the complete upgrade of the medical gases infrastructure will be the installation of a new HTM compliant Medical Air compressors System in the coming days.
This investment compliments the recent initiatives carried out in the hospital to expand hospital capacity by an additional 120 beds for COVID-19, including the possibility to flex up to 25 COVID-19 ICU beds complete with ventilator setup if required. Earlier this year, Steward Malta increased the number of ventilators in GGH to an unprecedented 25 units, thanks to the Steward system's efficient and reliable supply chain.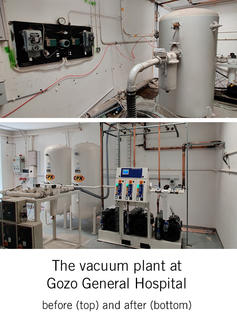 Steward Malta was able to mobilize rapidly in response to the pandemic crisis sourcing its high-end ventilators directly from reputable manufacturers such as General Electric and Philips by leveraging on the global supply chain network that Steward can access through its US and International health systems. This results in transparency of multi-tier supply chains and better visibility of the origin of supply, avoiding intermediaries and delays, and ensuring that Steward emerged in a better position to put its hospitals first in line to secure inventory at a time of great shortage. As part of a large international health care system, with more than 7,000 beds under Steward's management worldwide, Steward Malta has access to best practice support on crisis management, treatment strategies, isolation and containment techniques, and optimal use of PPEs.
"As part of our preparedness for COVID-19, Steward Health Care Malta has invested significantly in reliable equipment and enhanced infrastructure in its hospitals with the intention to provide the best possible care to patients, whilst keeping our staff safe. Together with Steward's international leadership team and through the supply chain support it provides, we are leaving no stone unturned to be able to deal successfully with the pandemic and the patients' needs," said Dr Nadine Delicata, Executive Director and President of Steward Health Care Malta.
More investments are on the way, as Steward Health Care Malta is currently working to conclude upgrades of the Physiotherapy Outpatients department at Karin Grech Hospital as well as the Emergency Department at Gozo General Hospital.
The ventilators are part of a Eur6 million investment programme that Steward Malta embarked on in 2020 to face the COVID-19 pandemic successfully. Besides ventilators, critical equipment purchased for COVID-19 purposes include specialised dialysis machines (CRRT), monitors and oxygen concentrators, additional supplies such as Personal Protective Equipment, and investment in infrastructure and plant.
Steward Malta invested in the modifications of its facilities at Karin Grech Hospital to accommodate changes in patient demand and workflow as a result of COVID-19. This includes a new additional 28-bed ward complete with negative pressure and the required air changes.
In summer, Steward Health Care's headquarters in the US donated 100,000 disposable face masks to be used in the Gozitan and Maltese community, especially by vulnerable people, so as to help in the prevention of the spread of COVID-19.