25th May 2022 -  Steward Health Care Malta (SHCM) carried out two separate initiatives in May to mark Stroke Awareness Month and to continue to raise awareness on the prevention and treatment of strokes.
A team of healthcare professionals from Gozo General Hospital (GGH), coordinated by Frank Xerri, Executive Allied Health Practitioner (Physiotherapy), toured seven primary schools around Gozo to give educational talks to year five and year six students. Both government and church schools participated in this initiative, which ran during the first week of May 2022. The Stroke team gave both virtual and physical presentations on stroke awareness to these schoolchildren, particularly the right approach to detect and enhance the responsiveness of a person suffering a stroke as well as the appropriate actions to take.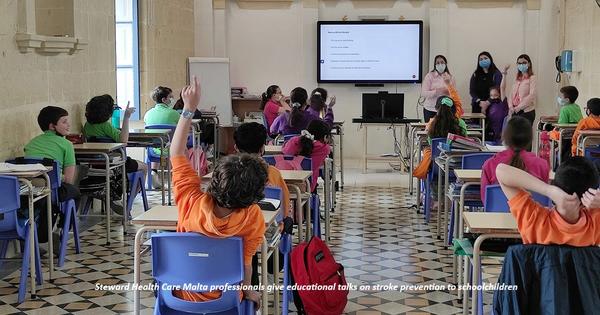 "A stroke is the leading cause of long-term disability, and also the leading preventable cause of disability," said Mr Xerri. "Stroke awareness helps prevent strokes and decrease the amount of incidents related to a stroke. Educating people on these risks, particularly children who can pass on the information to adults at home, as well as general awareness in our communities in relation to time, is of utmost importance. Perhaps the biggest lesson here is that time is brain, and time lost is brain lost."
GGH has a stroke team made up of various professionals who can help a stroke patient recover. These include a neurologist, speech language pathologist, occupational therapist, physiotherapists, social workers, psychologists and ward and discharge liaison nurses.
As part of these initiatives, a strength information booklet or 'strength book' was distributed to patients currently seeking treatment at Karin Grech Hospital's (KGH) Stroke Rehabilitation Unit. The specialist interdisciplinary team within the unit empowers patients to find their inner strength to overcome the consequences of having suffered a stroke. The strength book contains useful information on KGH's policies and programmes, and introduces the stroke rehabilitation unit's team of specialists and their role in the patient's treatment.
Johanna Pizzuto, Charge Nurse at KGH, said: "Part of the rehabilitation from a stroke includes providing the patient with a normal routine he or she can follow daily, along with scheduled medications and any assistance needed to complete their practice, particularly in the morning. Patients at KGH also have access to intensive therapy during weekdays, which is always conducted according to one's individual needs."
The strength book also contains useful information about discharge planning and recommendations, and encourages the patient to fill in his or her personal goals and work towards them with the support of therapists and nursing staff.
KGH's stroke rehabilitation unit can house a maximum of 28 patients at any given point. All patients currently on admission have been given a copy of the strength book.