First Ukrainian soldiers arrive in Malta for prosthetic treatment as part of amputee rehabilitation program
January 26, 2023
26 January 2023 – Steward Health Care Malta (SHCM) has welcomed the first two Ukrainian soldiers who are receiving treatment in Malta as part of a Ukrainian amputee rehabilitation program named Project Renew. Leading prosthetics provider MCOP International (MCOPi), SHCM, Steward Health Care International (SHCI) and the charitable foundation Future for Ukraine (FFU) will assist as many as 24 victims of the war in Ukraine throughout 2023 in Malta. The program is supported by the Government of Malta, through the Ministry for Health.
The first Ukrainian soldiers to benefit from this program are Vitaly Tarusin, 32 and Andriy Konovalov, 45. The two soldiers are being supported by Anna Kovaleva, founder of FFU, as well as Olena Nikolaienko, CEO and Head of Strategy and Development of FFU Poland.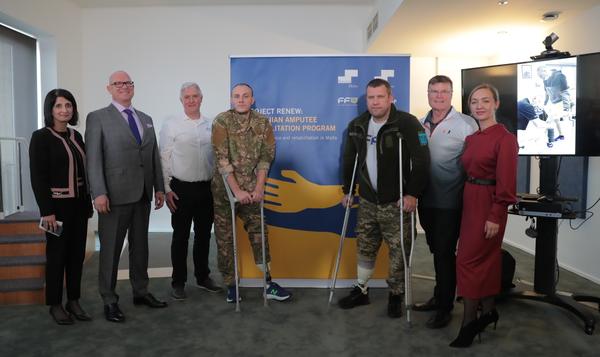 Vitaly Tarusin comes from the city of Kharkiv where he lived with his wife and two daughters before the war, working as a builder and interior decorator. When the Russian invasion started, Vitaly decided to join the Ukrainian army to defend his homeland, despite having no prior military experience. On 2 October 2022, whilst on a combat mission, Vitaly was injured from artillery, tank and mortar fire. This left him needing an amputation of the left lower leg as well as wounded from a gunshot fragment. On 4 October he was hospitalised in Kyiv and on 24 November Vitaly was transferred to the National Military Medical Clinical Center.
Andriy Konovalov was originally from Donetsk but moved to Kramatorsk when the Russian-backed insurgency began in 2014. Before the 2022 Russian invasion, Andriy worked as a physical education teacher and had no military experience. An attack on Kramatorsk military airfield made Andriy understand that a full-scale invasion by Russia had begun. He decided to fight for the sake of his daughters and in late February 2022 joined the Ukrainian Armed Forces in Kramatorsk. There he was trained and then sent to combat as an infantryman. On 7 October, whilst carrying out a combat mission near the city of Sviatove, Andriy was severely injured by a landmine. Immediately after the injury, Andriy was taken to a field hospital and eventually to Kharkiv hospital. Andriy was operated on and two weeks later he was sent to a hospital in the city of Sumy.
Vitaly and Andriy are just two of more than 3,000 Ukrainians who have lost a limb in the war, primarily due to bomb blasts and other explosions. The two soldiers are undergoing an advanced care model developed by SHCM and MCOPi professionals that will provide them with prosthetic legs as well as therapy and training for victims, returning them to full function and allowing them to return home. They recently arrived in Malta and are being cared for by the teams at the Orthotics and Prosthetics Unit and the Vascular and Amputee Rehabilitation Unit at St Luke's and Karin Grech Rehabilitation Hospital, managed by Steward Healthcare Malta. They will be spending around four weeks in Malta receiving treatment, before returning to Poland and eventually back to Ukraine.
Armin Ernst, CEO and President of SHCI said: "Steward Health Care is honoured to be part of this important initiative, building on our long-term partnership with the Government of Malta and MCOPi to contribute towards providing support to victims of the war in the Ukraine and help them build a better future. Our priority is to deliver coordinated treatment in the right place at the right time, so that our patients can spend more time pursuing healthy, active lives and less time in hospital."
He added: "The collaboration between Steward and MCOPi collaboration goes back to 2018 with Steward's revamping of the Orthotics and Prosthetics Unit (OPU) in Malta. We engaged a global leader with long years of experience in the field of prosthetics, providing specialised military prosthetics as well as life-long care for people with complex limb loss. I thank all those involved but in particular to our dedicated staff at OPU, Vascular and Amputee Rehabilitation Unit and the Physiotherapy Department at our hospitals in supporting this important humanitarian project and going the extra mile to ensure that this will not in any way delay care, increase waiting times or negatively impact the provision of prosthetics to Maltese amputees or other patients making use of Steward's OPU and related rehabilitation services."
Ian Fothergill, CEO at MCOPi said: "At MCOPi we work on a global level to advance access for amputees to the appropriate services and technology. We are very excited to launch Project Renew in Malta. This is a program which has been underway in the United States for several months to provide prosthetics for Ukrainian soldier amputees."
"The next and ultimate step will be to create a state-of-the-art centre in Ukraine itself. The centre would not only provide care, but also hire Ukrainians and train them in providing the best healthcare and rehabilitation methods for the most complex cases, using the most advanced techniques," concluded Mr Fothergill.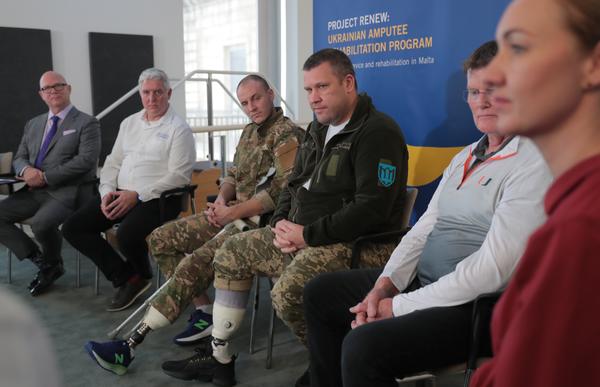 The event was also addressed by Prof. Robert Gailey, from the University of Miami at the Miller School of Medicine in the Department of Physical Therapy where he has taught for more than 35 years. He has been a Special Advisor to the United States Department of Defense for amputee rehabilitation and continues to work with military and veterans on several programs.
Prof. Gailey said: "MCOPi, Steward and Malta's health care system are breaking new ground in amputee and prosthetic care. Today I am happy to be a part of this initiative which includes a specific training program for Ukrainian amputees and the therapists who treat them."
Olena Nikolaienko from FFU stated: "FFU would like to thank its partners, patrons, and donors for rallying behind our cause and finding opportunities to provide such important assistance to our soldiers who, at the cost of their health, fight for freedom and democratic values for the whole world. The war took away their arms and legs, but the fighting spirit of Ukrainians cannot be broken. FFU is teaming up with the best specialists in Malta and the United States, to give back to our soldiers the opportunity to walk and even run."
Meanwhile, MCOPi and Steward will be organising a running clinic on Friday 27 January at the indoor gym at St. Pauls Missionary College – 37, Emmanuele Vitale, Rabat - between 9am and 12.30pm. The public, media but especially people with prosthesis are invited to attend this event, which is aimed at providing practical coaching and motivation for people with prosthesis to move better, easier and quicker, in a supportive and encouraging environment. For more information email ian@mcopro.com.